Desktop Rechner einrichten 
auf portal.microsoftonline.com anmelden – Downloads – Desktop-Setup starten
Outlook konfigurieren: Als Exchange Konto, email-adresse ist gleich benutzername
evtl. Lync Konfigurieren: email-adress ist gleich benutzername
Login Namen korrigieren, wenn Azure Sync vorhanden
Connect-MsolService
Set-MsolUserPrincipalName -UserPrincipalName john.smith@company.onmicrosoft.com -NewUserPrincipalName john.smitherson@company.com


Azure Sync force Replication


Partieller Sync
Start-ADSyncSyncCycle -PolicyType Delta
Vollständiger Sync
Start-ADSyncSyncCycle -PolicyType Initial 
Outlook auf Deutsch einstellen
im Ausführfenster oder im CMD:
outlook.exe /resetfoldernames
Sicherheitsstandards deaktivieren
https://docs.microsoft.com/de-de/azure/active-directory/fundamentals/concept-fundamentals-security-defaults
Barracuda Cloud Archiver einrichten
Get-Mailbox -ResultSize unlimited | Add-MailboxPermission -User ServiceAccount@domain.com -AccessRights fullaccess -InheritanceType all -Automapping $false
Zu Office 365 verbinden:
Starte Powershell als ADMINISTRATIVER USER!
$cred = Get-Credential 
$Session = New-PSSession -ConfigurationName Microsoft.Exchange -ConnectionUri https://ps.outlook.com/powershell/ -Credential $cred -Authentication Basic -AllowRedirection 
set-executionpolicy RemoteSigned 
Import-PSSession $Session 

Shared Mailbox
Mailbox erstellen:
New-Mailbox -Name "Corporate Printing Services" -Alias corpprint -Shared




Set-Mailbox corpprint -ProhibitSendReceiveQuota 5GB -ProhibitSendQuota 4.75GB -IssueWarningQuota 4.5GB

Zugriff auf die Mailbox geben
Add-MailboxPermission "MailboxYouWant2Delegate" -user PleaseUseUPN@company.com -Accessright FullAccess
Zugriff auf die Mailbox setzen (wenn schon eine Berechtigungseintrag existiert, z.B. Standard oder Anonymous)
Get-MailboxFolderPermission 1Besprechung:\Calendar | Set-MailboxFolderPermission -User Standard -AccessRights Author
ACHTUNG:
Je nachdem ob man ein deutsches oder englisches O365 hat kann es sein, dass man
1Besprechung:\Calendar abändern muss in 1Besprechung:\Kalender
Senden Als Berechtigung erteilen

Add-RecipientPermission "Corporate Printing Services" -Trustee corpprintDG -AccessRights SendAs 
Set-MailPublicFolder -Identity "\Gemeinsame E-Mails" -EmailAddressPolicyEnabled $false 
Set-MailPublicFolder -Identity "\Gemeinsame E-Mails" -PrimarySmtpAddress USER@MAIL.COM
Rekursiver Zugriff auf Outlook Ordner
Get-MailboxFolder –Identity <owner username>:\<folder name> -Recurse | Add-MailboxFolderPermission -User <username of person who will have access> -AccessRights <permission level: owner/reviewer/etc…>
Passwort läuft nie ab konfigurieren:
set-executionpolicy RemoteSigned 
danach die Powershell nochmal neu starten
Zum Office 365 Konto mit einen Admin User verbinden:
Connect-Msolservice
Mit
get-msoluser
erhalten wir eine Liste aller Benutzer in Office 365. Die linke Spalte UserPrincipalName enthält die im nächsten Schritt notwendige Userbezeichnung.


Nun entweder bei allen User, deren Passwort nicht mehr ablaufen soll, mit folgendem Befehl PasswordNeverExpires aktivieren:
set-msoluser –UserPrincipalName <username> -PasswordNeverExpires $True
oder gleich alle auf einen Rutsch mit:
get-msoluser | set-msoluser –PasswordNeverExpires $True
Kontrollieren, obs geklappt hat kann man mit:
get-MsolUser -UserPrincipalName <username>|fl
MyAnalytics deaktivieren
Im AdminCenter unter Dienste und Add-Ins:
Den Service MyAnalytics auswählen und beide Haken entfernen.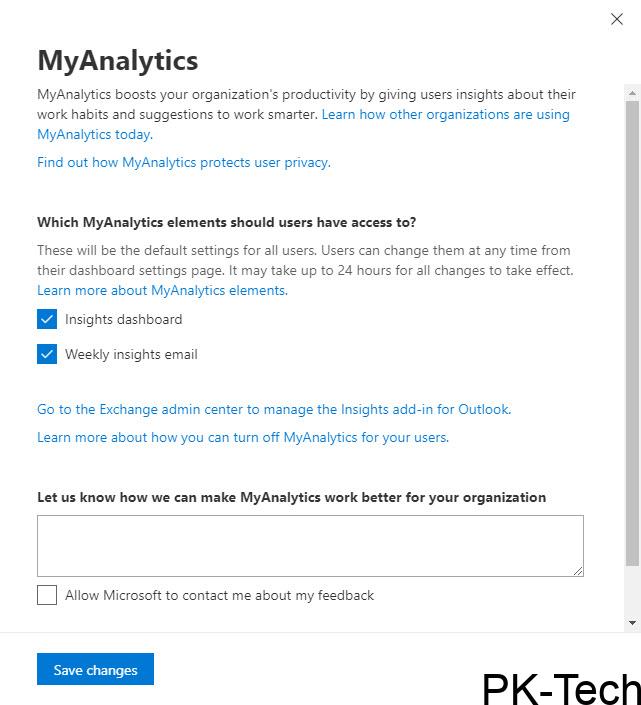 Über Powershell:
$LO = New-MsolLicenseOptions -AccountSkuId "litwareinc:ENTERPRISEPACK" -DisabledPlans "MYANALYTICS_P2"




Set-MsolUserLicense -UserPrincipalName <Account> -LicenseOptions $LO